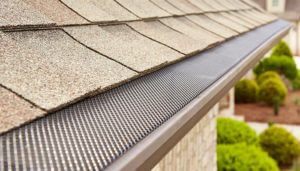 It's official. Fall has fallen and it's all over the place. Evidence of your tree's last hurrah before the winter (or worse, maybe your neighbor's tree), can still be found in stockpiles at the corner of your house or driveway. And then, of course, there are the rain gutters.
One glance at the gutter that seems to floweth over has you feeling like your rain gutters are a real punch in the gut. Whether you've invested in the seamless aluminum gutters (inherited, if you were lucky) or you're working with section gutters, the sludge of leaves and questionable new life growth has made for what seems like an impossible task.
So maybe, it's time to invest in leaf guards.
3 Benefits of Having Leaf Guards Installed on Your Continuous Rain Guttering System
Your future self will thank you: Leaf guards do more than ward off leaves. They'll help you guard your knees. Climbing up and down a ladder to clean out rain gutters is a hassle and puts you at risk of falling off a ladder. And one of the benefits of seamless aluminum gutters is supposed to be their long lasting lifespan. Not only are you risking yours with leaf fishing, you're putting wear and tear on your joints.
The mosquitoes will not thank you: Leaves collect puddles of moisture and moisture makes for the perfect mosquito breeding grounds. Year round leaf guards will help leave mosquitoes homeless and out of your yard.
You'll maximize your investment: Continuous rain guttering systems are important for protecting your home's foundation, preserving vinyl siding and preventing roof damage. Leaf collection can prevent water from flowing, making your seamless aluminum gutters not so seamless after all.
There's no need to feel gutted by the gutters. Affordable Siding & Windows can help keep the flow of life flowing smoothly around your home.